The countdown has officially started in Belgium: elections are on their way. One year from now, on 9 June, Belgians will cast their ballot to choose their regional, federal, and European representatives.
Elections are not just an important occasion for citizens to voice their concerns and ambitions for the country's future, they are crucial for businesses too. Businesses are equally (if not more) impacted by national and regional political landscapes and changes in legislation.
However, if businesses cannot express their voice on election day, there are other ways for them to advance their interests. By understanding the election process, its key actors, and themes, and identifying the opportunities to intervene, businesses can improve their future growth and prosperity in the country and its regions.
As often in Belgium, the election process takes a more complicated turn than in other European Member States. Belgium is known for its complex institutional structure, and elections are no exception to this rule.
This article provides key insights into the Belgian electoral process, its intricacies, forecast and implications for businesses and organisations.
Agenda-setting: Why your business should care about the elections in the upcoming year
The most important point for businesses is the political agenda-setting period preceding the elections. Agenda-setting allows citizens and organisations to understand which major themes political parties will prioritise. Often, these themes are outlined in the parties' manifestos, which for most Belgian parties will be published in Q1 2024.
Your business can provide input for these manifestos in the upcoming months, by contacting the political parties' research centres, in charge of writing them. Political analysts in the country share the observation that one theme usually dominates the election campaign. Chances are that the political party that sets off campaigning first with a major theme wins the elections. In 2019, this was Vlaams Belang (Flemish far-right party) with asylum and migration.
Currently, politicians at the federal level are putting forward several political themes including migration, security, and possibly abortion. Recent discussions at party conferences have also underlined other themes at the federal level:
Fiscality and income, such as the 'work more pay more' principle;
The labour market;
Digitalisation including artificial intelligence, algorithms, digital skills and cybersecurity of digital identity.
At the regional level, education and public transport will be important election themes across the country. On the Flemish side, important themes include:
Nature conservation and restoration, which remain a sensitive topic, as they cast a shadow over the interests of the agricultural sector, following the nitrogen debate of the past year;
Digitalisation with a focus on data sovereignty and protection.
In Wallonia, the focus lies more on:
Social progress;
Climate change;
The protection of citizens' rights;
Digitalisation with a focus on digital skills, artificial intelligence, connectivity and cybersecurity.
On 5 September, the French-speaking political parties expressed their priority file without which they would not accept to form a government under the next legislature, must they be re-elected.  On the left of the political spectrum, PS (Parti Socialiste, socialist party) wishes to focus on increased low and middle incomes.
PTB (Parti des Travailleurs Belges, far-left party) wants to push back austerity politics (come back to pension at 65 years, ending salary blockage, taxing high incomes) and support unity politics (preventing the further fragmentation of competencies among the different institutional entities). Finally, Ecolo (green party) strongly defends boosting investments to fight against climate change, with a focus on promoting a just transition and push renovation for building.
At the centrum of the political spectrum, Les Engagés (centrum-left party) makes healthcare issues a priority, by stating they want to increase value given to healthcare jobs (labour conditions and salary) and make access to healthcare easier, with a preference for the re-federalisation of healthcare as a competency.
Défi (Démocrate Fédéraliste Indépendant, centrum-right party), on the other hand, ambitions to restore state authority and reinvest in the police and justice, specifically addressing drugs abuse and crime in Brussels. Finally, on the right of the spectrum, MR (Mouvement Réformateur, liberal party) wants to support the use of existing nuclear reactors, as well as build new ones.
Possible political themes in Belgian elections 2024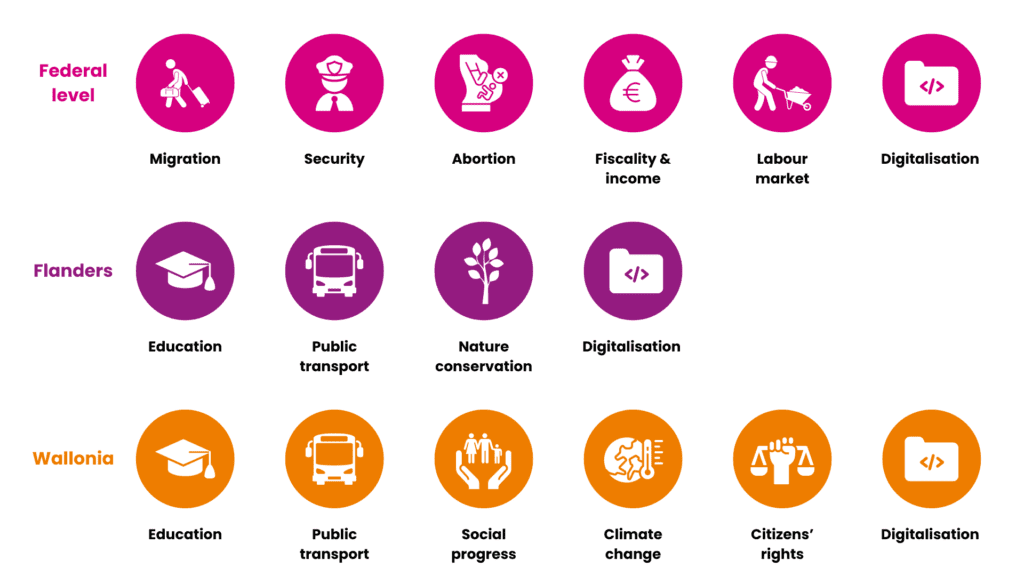 A complex case named Belgium
Belgium in a nutshell
Belgium is a federal constitutional monarchy with a parliamentary system. The bicameral federal parliament is composed of a Senate and a Chamber of Representatives. The country is divided into six parts: three geographically delimited Regions and three entities based on language and culture, called Communities.
At the head of this assembly of Regions and Communities is a federal government. In Belgium, each Region and each Community has a government and a parliament. Together with the federal entity, composed of a government and parliament as well, the country is being led by a total of six governments, supported by six parliaments (n.b.: the Flemish Region and Community's institutions have merged).
However, not all parliaments have the right to legislate on all policy files. The Belgian Constitution has divided competencies amongst the federal, regional and community entities:
The Regions, respectively the Flemish, Walloon and Brussels-Capital Regions, decide on topics relative to the economy, innovation, agriculture, energy, transport, environment, employment and housing;
The Communities, respectively the French, Flemish and German-speaking Communities, decide on education, media, culture, social protection and health;
The federal level competencies are foreign affairs, justice, social security, defence and finance, as well as parts of public health, labour and internal affairs.
Who do Belgians have to elect on 9 June?
Every five years, mandatory elections take place in Belgium at the federal, community and regional levels. These elections take place at the same time as the European elections. In 2024, Belgian elections will take place on Sunday, 9 June. Citizens will have the obligation to vote for the following entities:
The federal parliament, hereby directly electing the 150 members of the Chamber of Representatives. It is to be noted that members of the Senate, the other chamber of the Parliament, are indirectly elected by the parliaments of the Regions and Communities;
The Region and Community parliaments;
The European Parliament, hereby directly electing 21 Belgian representatives of which eight must be French-speaking, 12 Flemish-speaking, and one German-speaking. If you wish to further read up on how the European elections are proceeding, and what they mean for your business, you can find more information here.
Current polls: How would Belgians vote if elections happened today?
In view of the Belgian 2024 elections, several major news agencies have collaborated (de Stemming, le Grand Baromètre, Le Choix des Belges) to publish different polls on voting intentions amongst Belgians. During the last elections in 2019, Belgians voted as follows:
2019 European Parliament elections results in Belgium
by national party (in %)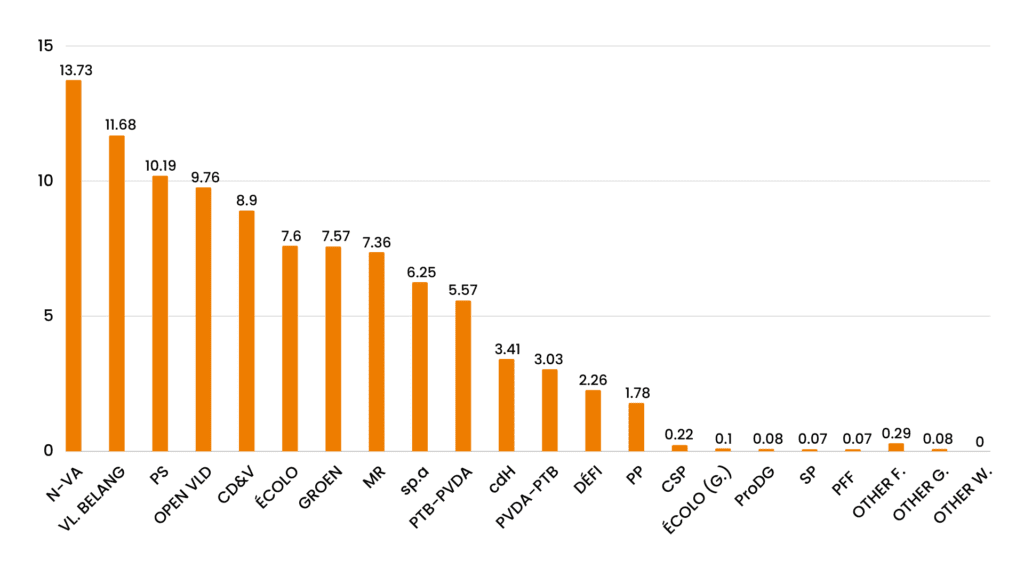 If Flemings were to vote today, Vlaams Belang (far-right party) would be the most important party in Flanders, with an expected 6% gain in voting intentions compared to the 2019 election results.
N-VA (Nieuwe Vlaamse Alliantie, right party) would follow as second biggest party, losing about one percent in comparison to the 2019 elections. Third, with the largest progress, Vooruit (socialist party) would win almost 7%.
This top three would be followed in order of scores by PVDA (Partij van de Arbeid, far-left party), Open VLD (Open Vlaamse Liberalen en Democraten, liberal party), CD&V (Christen-Democratisch en Vlaams, centrum-left party) and Groen (green party).
In Wallonia, the largest party would be PS (Parti Socialiste, socialist party), not even losing 1% compared to the 2019 elections. They would be followed by PTB (Parti des Travailleurs Belges, far-left party), gaining slightly more than 6%.
Third, MR (Mouvement Réformateur, liberal party) would lose 1%. In order of scores, Ecolo (green party) would follow this top three, then Les Engagés (centrum-left party) and Défi (Démocrate Fédéraliste Indépendant, centrum-right party).
In Brussels, PS would remain the first French-speaking party with 18%, followed by MR at 16.8%, PTB/PVDA at 16.7%, Ecolo at 16% and Défi at 9.6%. Groen would be the first Flemish party with 6.1%, followed by N-VA with 4.5%, Vlaams Belang with 2.6%, Vooruit with 1.6%, Open VLD with 1.2% and CD&V with 1%.
However, if Ecolo and Groen decide to present themselves together as a green alliance, as they did in 2019, they would again be the largest party in Brussels, despite their predicted losses.
Belgian elections, European elections, and Belgian Presidency of the Council: how to navigate all these events?
Because we like to keep it simple in Belgium, not only do Belgian elections fall on the same day as European elections, but they all take place under the Belgian Presidency of the Council. Rest assured, the next few paragraphs will give you a concise idea of how these three events are interlinked.
The Belgian Presidency of the Council of the EU
In the Council of the EU, the Presidency is secured through a rotation system. Every six months, one Member State presides the meetings in the Council, and gets the opportunity to work on a list of priorities decided nationally and ensure the smooth continuation of the EU policy agenda.
The Belgian Presidency is part of a Presidency Trio, composed of Spain, Belgium and Hungary, and will run from 1 January 2024 to 30 June 2024. As such, the entire Presidency will be marked by elections at the European and the Belgian level.
How will the Belgian and European elections in 2024 impact the Presidency?
The good news is that elections will not interfere with the Belgian Presidency to determine which Belgians ministers will chair the different parts of the Council of the EU, as these roles have been attributed.
However, Belgian and European elections will affect the policy files dealt with under the duration of the Belgian Presidency. The Presidency's first three months will be dedicated to finalising ongoing legislative files. This is dependent on the progress made by the Spanish presidency.
The last three months of the presidency will see the adoption of conclusions and set a strategic agenda for the next legislature. Nearing the elections, most politicians in Belgium and in the European Parliament will be focussing their efforts on re-election.
Do you want to make your voice heard and defend your business' interests in the context of the Belgian elections?
Publyon has a proven track record and extensive network that can support you in delivering on your ambition to access policy makers in view of influencing and providing input to the political agenda. Do not hesitate to reach out to us to learn more about our Belgian and EU elections services.