Are you a business leader in the agricultural sector and looking to reduce your environmental impact and promote sustainable practices? Are you doing enough to preserve biodiversity and promote sustainable practices? What about the EU? In this blog post, Publyon's Consultant Maria Pulina provides some key insights about and the EU Commission's Communication published in response to the "Save Bees and Farmers" initiative.
Learn how the EU is pushing to make positive changes and how this affects your ability to operate in the EU agrifood market. Discover how your organization can benefit from the available opportunities.
So, what is Save Bees and Farmers all about?
On 5 April 2023, the European Commission presented a Communication based on the European Citizens Initiative "Save Bees and Farmers" signed by 1,1 million EU citizens. A European Citizens Initiative is basically a petition that allows EU citizens to call directly on the European Commission to propose new legislation.
This particular European Citizens Initiative called on the Commission to propose legislation to phase out synthetic pesticides by 2035, to restore biodiversity, and to support farmers in their transition to implement more sustainable agricultural practices.
New legislative proposals or staying the course?
While welcoming the European Citizens Initiative as a clear sign of broad public support for action on pollinators, biodiversity and sustainable farming, in its Communication the European Commission does not plan to table new legislation.
Instead, the Commission urges the European Parliament and the Council to find rapid and ambitious agreements on two legislative proposals adopted by the Commission in June 2022: the Sustainable Use of Pesticides Regulation (SUR) and the Nature Restoration Law.
Simply put, the European Commission's Communication does not impose any additional requirements or incentives for businesses to adopt sustainable pesticide practices. However, it does highlight various opportunities that companies may have overlooked and that can support their business operations.
We will now outline six policies mentioned in the Communication that can positively affect your ability to operate in the EU agrifood market.
Six takeaways from the "Save Bees and Farmers" communication for your business
1. Alternatives to pesticides
The Sustainable Use of Pesticides Regulation aims to reduce the use of chemical pesticides by 50% to promote sustainable and low-risk alternatives in agriculture.
However, farmers and farmers' associations are concerned that this reduction will leave them with insufficient tools to combat pests.
To address this issue, the European Commission has adopted several policies to accelerate the authorization and market access of biological plant protection products based on micro-organisms. These low-risk alternatives can help farmers transition to a more sustainable and environmentally friendly approach to pest control.
In addition, the Commission plans to propose a new regulation in June 2023 that will de-facto deregulate new genomic techniques, allowing EU farmers to develop new pest-resistant plant varieties. This will furthermore help reduce dependency on pesticides. Hence, there is a need to include these alternatives in your operations to be prepared for the pesticide reduction targets the EU will set now or in the future.
2. Research funding
Secondly, if your business is involved in research to make EU agriculture more sustainable, the Horizon Europe funding program is supporting over 30 research projects with a budget of at least EUR 200 million.
These projects focus on reducing the use of pesticides in agriculture and promoting sustainable and pollinator-friendly farming practices. By participating in these projects, businesses can contribute to the development of innovative solutions that can make agriculture more sustainable.
3. Compensation for farmers for costs related to the transition
Under the Sustainable Use of Pesticides Regulation proposal, farmers can receive compensation under the Common Agricultural Policy 2023-2027 (CAP) for up to 5 years to cover costs related to complying with new requirements to decrease chemical pesticide use.
This presents a unique opportunity for farmers to transition to sustainable alternatives, as the EU financially supports (through CAP) the transition process and ensures that no grower is left behind.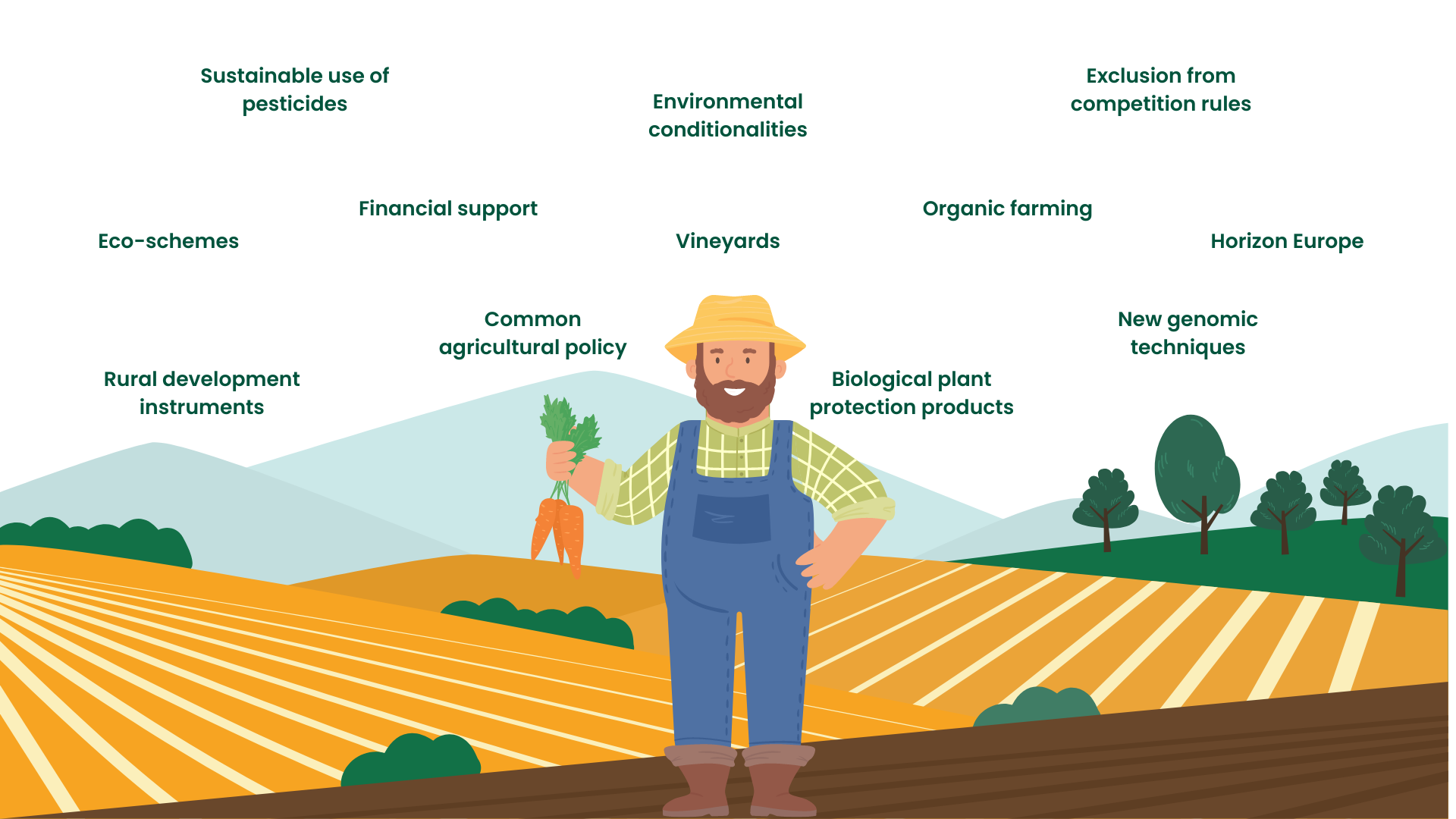 4. Common Agricultural Policy financial interventions
Furthermore, the compensations mentioned in the previous point come in addition to the numerous interventions already programmed under the new CAP. These interventions support the sustainable use of pesticides or the protection of biodiversity for a total of almost EUR 100 billion to be allocated between 2023 and 2027.
In order to achieve this, Member States are proposing a new instrument designed to reward environmentally conscious farming practices, through so called eco-schemes, concentrating at least 25% of the budget for direct payments to farmers.
Member States are also proposing a set of rural development instruments that allocate at least 35% of the budget to environmental practices. Under these instruments, support will be allocated to around 2.86 million hectares of agricultural land for maintaining or preserving landscape features.
Moreover, some national plans support the retention of traditional agricultural production systems and landscapes, such as traditional variety vineyards. If your business goal is to have a traditional vineyard in the heart of Tuscany, this is the time to do so.
5. Environmental conditionalities
Are you planning to start working as a farmer? Is your business reliant on farmers' work? Then you should know that the current CAP contains a set of environmental conditions that all farmers must meet to receive CAP (financial) support. This includes 'standards for good agricultural and environmental condition of land' (GAEC), several of which aim to protect and restore biodiversity. An example is devoting 4% of your arable land to non-productive features and areas.
Another requirement is to create pesticide-free and fertiliser-free buffer strips along watercourses. If you are planning to transform your agribusiness into organic farming, you may be happy to know that CAP heavily promotes and supports organic farming. The EU aims to have at least 25% of its agricultural area converted to organic by 2030.
6. Exclusion from competition rules
If you or your business partners are looking to collaborate, it is important to know that the EU has introduced a new exemption from EU competition rules. This allows agreements to be made between agricultural product producers who are either acting alone or working with other members of the agri-food supply chain, with the goal of applying sustainability standards that go beyond what is required by EU or national law.
This may apply to the fields of restriction of pesticide use, protection and restoration of biodiversity, and other environmental objectives including animal health and animal welfare. What does this mean for producers of agrifood products?
First of all, by working together, agrifood producers and stakeholders like yourself may be able to negotiate better prices for their products. Collaboration could enable you to pool your resources and reduce costs, thereby increasing your bargaining power when dealing with buyers. This, in turn, could lead to higher remuneration for your products.
Secondly, collaborating with other actors in the supply chain could provide greater certainty over the quantity of supply. By working together to coordinate production and distribution, you could reduce the risk of overproduction or underproduction, which can lead to price volatility.
Thirdly, collaborating with other actors in the supply chain could provide opportunities for promotion of products. By working with other members of the agri-food supply chain, you could access new markets and increase the visibility of your products. This could help increase sales and revenue.
Is your business fit for the green transition in EU agriculture?
Did our "Save Bees and Farmers" article tickle your curiosity about the opportunities the EU offers to agrifood businesses operating in the European Union? Are you looking forward to moving towards a more sustainable business model but do not know if your organisation meets all the criteria set up in the EU? Do you wish to know if current and upcoming EU agrifood policies will have a positive or negative impact on your operations? Do you wish to be prepared for what is coming towards your business?
Publyon offers tailor-made solutions to navigate the evolving policy environment at EU level and anticipate the impact of the most relevant EU agrifood policies on your organization. At Publyon, we envision a fair, just and thriving world where people, organisations, communities and governments are aligned to unite and innovate for the benefit of all.
Publyon's European Green Deal Impact Scan and Sustainability Consulting Services provide you with a clear overview of the impact of relevant EU (and global) legislations on your operations, on your medium- and long-term corporate strategy, as well as on the operations of your customers. Such analysis will enable your business to anticipate legislative changes that affect your operations and identify public affairs actions necessary to mitigate the impact, or strategic areas in need of revision for future regulatory compliance.
Do not hesitate to contact our experts to know more about our services. 
Maria Pulina
Maria Pulina is a Consultant for Publyon's Sustainability practice assisting with the delivery of strategic advisory services and with the development and implementation of Public Affairs strategy. She has expertise in sustainable food systems, agriculture, food safety, food security chemicals, and circular economy. You can contact her at m.pulina@publyon.com