As the global economy and cross-border challenges rapidly evolve, countries and regions around the world are fiercely competing for a piece of the pie. In this race for economic growth and development, the European Union (EU) remains a major player but its future role depends on the steps it is willing to take. As a result, the EU has launched a comprehensive competitiveness strategy aimed at fostering innovation, boosting investment, and strengthening Europe's position in the global market.
But what does this strategy entail, and can it help the EU maintain its competitive edge? With emerging markets such as China and India, as well as technological disruption and geopolitical challenges, the EU's position is far from secure.
In this deep dive, Publyon's Consultants Lennert Houbrechts, Eliza Druta, and Emmanuelle Ledure take a close look at each driver within the EU's competitiveness strategy to delve into the nuances of the Commission's plan and gather the main insights.
Attack of titans
The EU has been grappling with three major events that have hindered productivity and growth: the COVID-19 pandemic, the war in Ukraine, and energy crisis. In response, the European Commission has been promoting economic growth, energy independency and business opportunities by spearheading two pivotal transitions – the green and digital twin-transitions. Despite these efforts, the EU's single market has been underperforming compared to other leading economies, marked by sluggish growth rates since the 1990s, lower returns, and inadequate investment in research and development, particularly when compared to the US. Furthermore, the EU lags behind on the latest technological advancements that are instrumental in fostering growth. While the EU is dealing with the immediate effects of a cascade of crises, it has become clear that a long-term vision is needed to create predictable and competitive conditions for businesses to flourish within the European social model.
It's not the end game: EU's next strategic move
The European Commission has taken a bold step towards a greener and more innovative future with its newly published "long-term competitiveness strategy". This strategy seeks to catalyse industrial growth, aligning with its green and digital transition goals and championing competitiveness at its core. The Commission is also taking a hard look at existing EU legislation, which has been often recognised as a growth obstacle (e.g., state aid restrictions, social legislation) weeding out outdated and irrelevant policies to make way for progressive, purpose-driven reforms. The ultimate goal? To make the EU "the place to invest" and propel the EU economy towards a sustainable future that extends beyond 2030 while helping EU companies remain competitive with their non-EU counterparts.
Inside the EU's competitiveness strategy: the nine strategic manoeuvres
To boost the EU's competitiveness, the European Commission has identified nine key drivers.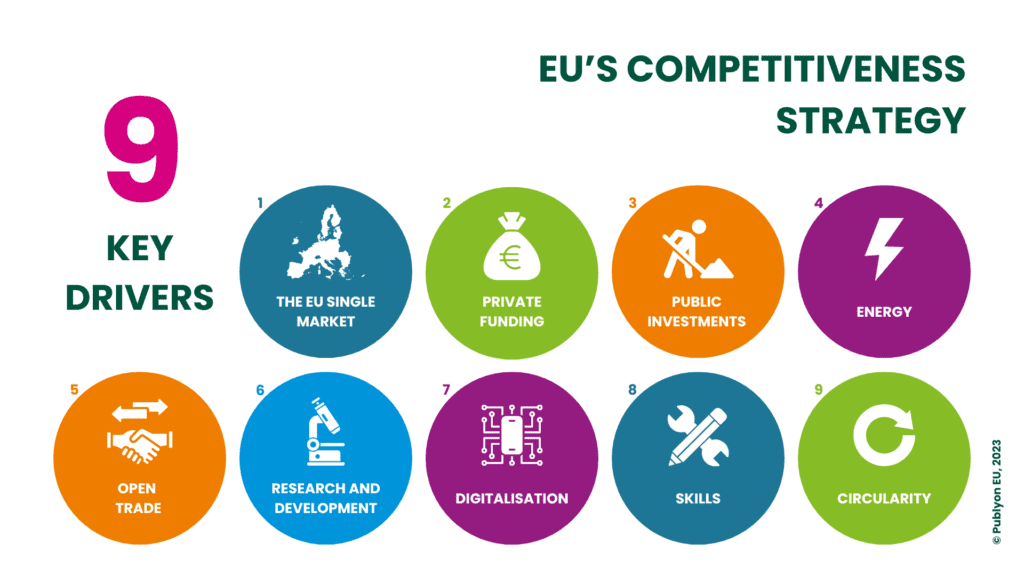 9 Key drivers
of EU's competitiveness strategy

Each driver will be monitored annually and measured against key performance indicators (KPI). Find out how each driver of the EU's competitiveness strategy will impact your business.

1. Achieve a well-functioning EU Single Market
by securing robust competition, broadening, and deepening the market, and fostering the integration of services.

Why the single market?
For businesses, the Single Market is the main engine of growth, productivity, and competitiveness. With 23 million businesses and 440 million customers, it serves as a robust foundation for expansion both within and beyond the borders of the EU and represents a trusted source for consumers across the world.
What needs to change?
The Commission is supporting robust competition by reviewing competition rules, guidelines, and instruments, in particular related to digitalisation and new ways of offering goods and services. It aims to implement changes that reflect the increasingly interconnected and globalised nature of commercial exchanges;
The Commission aims to monitor by proposing new KPIs on integration and conformity deficits to broaden and deepen the service market.
To foster the integration of the Single Market within the EU, it is crucial to bring down barriers and concentrate on some sectors. The Commission will work on implementing the 'once only' principle in areas such as customs, taxation, and regulatory reporting.
What do these changes mean for your business?
New, streamlined KPIs on conformity within the Single Market can change the environment companies have to navigate to conduct business in the EU. An increase of clarity on these rules will make investments more predictable and attractive;
The "once-only" principle will considerably reduce the administrative burdens, such as financial and time-related costs, with regards to the establishment of (a chain of) business(es). The "once-only" principle in EU legislation refers to the principle of administrative simplification and digitalisation. It aims to reduce the administrative burden on citizens and businesses by ensuring that individuals and companies only need to provide certain information to public administrations once.
The principle further supports the mobility of businesses, as it only requires the business owner to communicate administrative information to public authorities once, across the entire EU;
The "once-only" principle does increase the challenge of sharing and retaining data between EU Member States. You can find more about the need to strengthen data protection for your business in the explanation to Driver 7.
From theory to practice… An example: if you are an online retailer in France and you want to expand across the EU, well, your life is going to be much easier. Before streamlined KPIs and the introduction of the "once-only" principle, cross-border expansion was complex and costly. With the new rules in place, you only need to provide administrative information once, reducing time and costs and making informed decisions about where to invest. However, the "once-only" principle requires data sharing, which means you must ensure your data protection policies comply with EU regulations.

2. Enhancing access to private capital
by deepening the Capital Markets Union and strengthening the Banking Union, as well as developing the EU tax and financial regulatory frameworks that support businesses.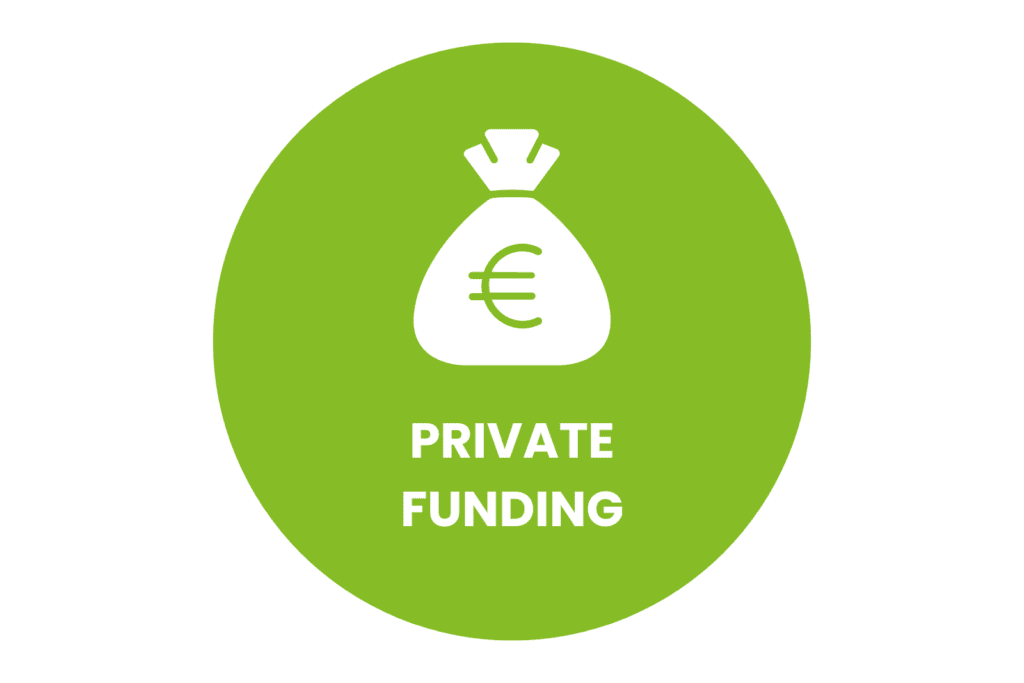 Why private capital and investment?
Private investment in the EU accounts for 85% of total investments. However, this is not enough to support businesses and compete with other leading world economies. According to the Commission, the size and depth of the current EU capital markets are not wide enough to foster future expected growth.
What needs to change?
According to EU's competitiveness strategy, cross-border investments need to be stimulated within the EU, through:
A well-developed Capital Markets Union that spurs private investment, diversifies funding and efficiently allocates capital. Additional measures are expected to limit the fragmentation of the capital market and facilitate cross-border investments. These include aligned insolvency laws, fostering deeper commitment of retail investors in capital markets, strengthening market infrastructure, facilitating access to financial information and stronger supervision;
Financial stability for corporate borrowing, guaranteed by a secure Banking Union. The Commission projects to review bank crisis management and deposit insurance frameworks;
A strong EU tax framework: The Commission aims to remove existing tax barriers to cross-border investments and propose two new pieces of legislations for an EU-wide system for withholding tax and a framework for the income taxation on businesses (BEFIT).
Sustainable finance
The EU has established itself as an international leader in sustainable finance. It leads convergence efforts on sustainability reporting standards at the global level, through the International Platform on Sustainable Finance. Nevertheless, the Commission will seek to further develop sustainable finance by streamlining the implementation of disclosure obligations where it is possible.
What does this mean for your business?
For all small businesses, the strategy aims to diversify and facilitate access to funding, particularly cross-border and particularly for small businesses, it facilitates access to capital markets;
Further development of sustainable finance will be a support to businesses concerned with sustainable entrepreneurship;
The removal of tax barriers to cross-border investments will broaden the basis for private investments for all businesses, not matter the country they are based in.
From theory to practice… An example: if you manage an SME active in business-to-business logistics with activities in Belgium, the Netherlands and Germany, making your operations more sustainable is a significant investment. For an SME, such a financial effort can have a much larger impact than for larger competitors. Additionally, making sense of the various funding opportunities can be an arduous endeavour. By facilitating access to more funding opportunities and financial support, the European Commission can simplify your efforts to adapt your business.

3. Public investment and infrastructure
by fostering policy and governance adaptation, modernising infrastructure, and public procurement.

Why public investment and infrastructure?
Public investment is essential for promoting EU competitiveness through investment particularly in the areas of research, development, education and healthcare. These areas are strong foundations for a resilient economy. Indirectly, public investment can also foster private investment, which we have analysed for you in Driver 3.
What needs to change?
More cohesive policies to deliver on common European priorities, paired with cohesion funds to address regional needs;
Reforming the European economic governance framework to include a strong set of EU fiscal rules which respond to new economic and geopolitical realities;
Modernising and increasing the capacity of the energy and transport network to foster cohesion and connectivity, especially for the periphery of the EU;
Strategic use of public procurement to stimulate supply chains through increasing demand.
What does this mean for your business?
Modern infrastructure creates climate-resilient, smart, safer and more efficient mobility and logistics that serve citizens and enterprises, creating a healthy environment for entrepreneurship;
Public procurement and tenders should better enable SMEs to participate and have an equal chance during the process. This should make European public procurement, and therefore public funding, more available for sustainable and innovative projects;
The EU and its Member States will look for ways to make public investments and funding more streamlined, which will give businesses more confidence to contest for these sources of funding.
From theory to practice… An example: For many businesses in construction, public tenders are a large source of income. By participating in these tenders, established firms have acquired significant expertise, making it challenging for newer players with innovative and sustainable solutions to break in. Good news! Thanks to the strategy aimed to improve the availability of tenders and increase the weight of sustainability and innovation, your smaller construction business could face much better prospects.

4. Energy
through an accelerated roll-out of renewables, the digitalisation of the EU's energy system, and optimisation of energy storage.

Why energy?
Businesses have had to carry high energy costs since the beginning of the war in Ukraine and the consequent sanctions posed on Russia by the EU, which has affected the entire European economy. A secure, reliable and affordable supply of energy is thus crucial to ensure future growth and EU competitiveness.
What needs to change?
The EU needs to push for a faster roll-out of renewables, which will lower energy prices and secure the EU's energy independence.
Renewables will heavily rely on electrification, thus on the digitalisation of the energy system, which needs to be further developed;
Energy storage needs to be secured, which is a critical question for renewable energy sources.
Stay up to date with policy developments related to energy by subscribing to our EU Energy & Climate Policy Updates.
What does this mean for your business?
Energy prices are higher than elsewhere in the world (twice as high as in the US, for example), both historically and recently due the current energy crisis. A well-implemented energy strategy will push electricity prices down.
Increasing incentives to roll-out renewable energy projects will lead the scaling and increased availability of energy supply coming from alternative sources, unlocking new opportunities for economic operators to diversity their energy sources, cut emissions and ensure fair prices and energy security.
From theory to practice… An example: highly energy-intense industries such as steel and manufacturing faced significant issues to keep their operations running during the height of the energy crisis. Digitalising and better storage capacity will result in a more flexible energy supply for your business.
5. Trade and open strategic autonomy
by continuously supporting already existing trade partnerships and forging new alliances.

Why trade and open strategic autonomy?
EU's competitiveness strategy defines open and diversified trade as key to making the EU more prosperous, competitive, and resilient. Diversified trade is particularly crucial to ensure a diverse and secure supply chain and reduce trade dependencies, specifically for critical raw materials.  
What needs to change?
Pursue current partnerships with allies and trading partners, through its Network of Free Trade Agreements;
Building new partnerships through trade and other agreements;
Further engage with the US, a partner with whom the EU shares strong common values and a strong common interest in diversifying critical raw materials and battery supply chains.
What does this mean for your business?
Strong trade agreements and partnerships open-up new markets for businesses and boost their opportunities abroad.
From theory to practice… An example: a manufacturer of electronic cars and trucks depends on complex international value chains that have been highly insecure over the past years. If your business is venturing into this pivotal sector or is already part of it, ensuring a stable supply of crucial raw materials is paramount for safeguarding investments and fortifying production chains. A European market that continues to be well connected with the global trade network is instrumental for this security.

6: Research and development
by incentivising technological innovation.

Why research and innovation?
Research acts as a catalyst for innovation, and innovation is the key to drive competitiveness and fuel the green and digital transitions that will shape the economy of tomorrow. Despite being an important hub for research and innovation, Europe is under-investing in comparison with its competitors. The EU's competitiveness strategy aims to change this.
What needs to change?
The Commission needs to incentivise innovation: it calls on Member States to provide financial incentives (tax-based) and support public-private partnerships;
Innovation should focus on two types of technologies. On the one hand, the EU can develop its comparative advantage in clean technologies, while on the other hand, the EU should further incentivise biotechnologies.
What does this mean for your business?
Public-private partnerships and financial incentives are powerful tools Member States can deploy to support innovative projects. The objectives in the strategy might empower Member States with more flexibility in this regard;
An investment environment that better accommodates innovation could alleviate some of the risks and thresholds for innovators to enter the market.
These measures could alleviate the market risks and support innovative businesses when entering a new market.
From theory to practice… An example: a start-up, which is developing a new software solution to better manage spoilage or decay in the food industry will likely have to deal with significant financial burdens before having a prospect on profits. The risk this entails could prevent your start-up from introducing its innovation in the first place. Tax-based incentives and more flexibility for Member States to provide financial support can help your business overcome the financial challenges of the first years in operation.

7. Digitalisation
by adopting and better integrating up-to-date digital infrastructures, artificial intelligence, quantum computing, and cybersecurity.

Why digitalisation?
The major reason for the EU's trailing in competitiveness is due to its slower paced technological development. To further develop its industrial leadership, the competitiveness strategy calls for the EU to attain a leading role in key digital technology 'verticals', from artificial intelligence to quantum computing, microelectronics, and virtual reality, and to deploy digital infrastructures, from cybersecurity, 5G to cloud computing and data. Digital technologies have a profound impact on the competitiveness of the EU economy, boosting efficiency and innovation. Their adoption and integration across the economy will be vital to overall competitiveness and productivity.  
What needs to change?
Further developing digital infrastructure, in the areas of 5G networks, satellite connectivity, and cloud computing;
The Commission is supporting the application of artificial intelligence, more specifically in public administrations;
The EU is supporting and accelerating research and innovation in the area of quantum computing;
The Commission is further developing digital twins, to support the Web 4.0;
The EU is focusing its legislative and innovation efforts on cybersecurity, to ensure the safety and resilience of its digital infrastructure.
What does this mean for your business?
The Commission is supporting SMEs to develop their cyber resilience through Digital Innovation hubs;
Large investments in technology are an opportunity for businesses in the European cybersecurity industry;
The Commission aims to have more than 90% of SMEs reaching a basic level of digital intensity and at least 75% of enterprises taking up cloud computing services, big data or AI technologies, which entails businesses will face efforts to digitalise.
AI is set to enter the business environment in a large number of sectors, therefore, staying in touch with European recommendations and policies on AI will be crucial to stay ahead.
From theory to practice… An example: in order to keep your business competitive on the global market, it is essential to remain at the forefront of new cutting-edge developments in AI, 5G or Internet 4.0 – it is hard to think of a sector, which will not have to adapt. Access to internet of things solutions may make your logistics chain significantly more efficient, new AI applications may allow your online marketing platform to better utilise data analytics to anticipate consumer behaviour while more readily available cyber security solutions will protect those data. To remain informed on the EU's efforts to boost these developments is to remain at the forefront yourself.
8. Education and skills
by promoting one-stop-shops, a skills-first approach and further pushing for inclusion.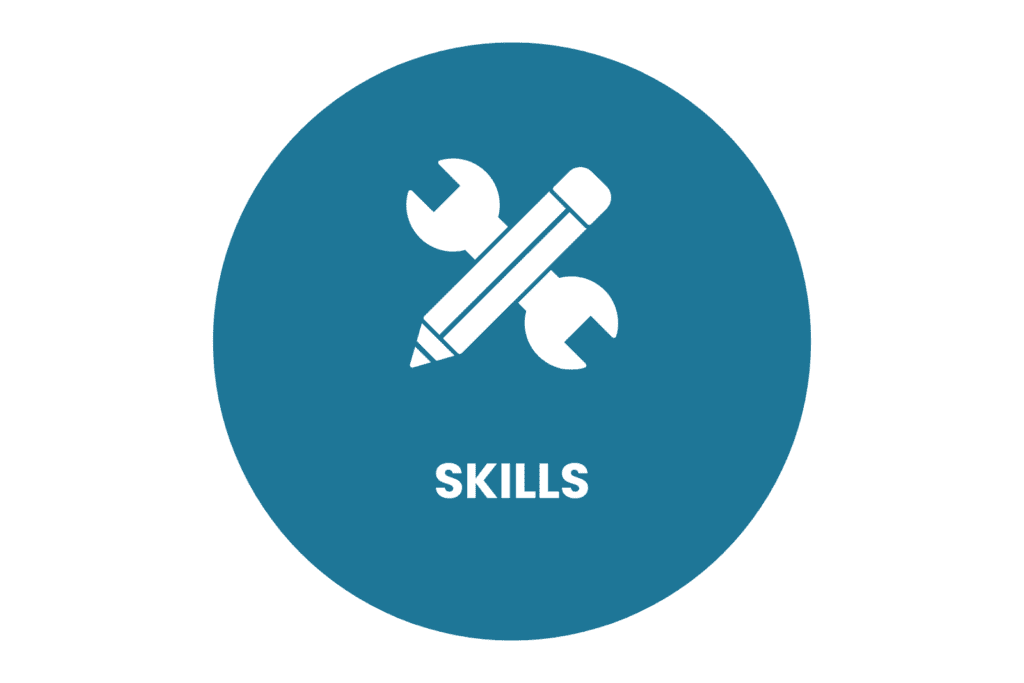 Why education and skills?
The green and digital transitions will create a need to acquire new skills. Individuals across the EU will have to develop specific skills to keep up with technological developments in their own jobs, or they will have to take on new jobs in other sectors. Currently, however, the EU is facing a skill shortage to support the twin transition and enable growth. With the European Skills Agenda, it has established a roadmap of key changes that need to take place within the EU to address skills shortages.  
What needs to change?
Develop one-stop-shops, which allow individuals to easily access skills-related services;
Support the recognition of professional qualifications across the EU;
Boost the inclusion of women and youth, people with disabilities, minorities and disadvantaged groups in education and skills development programmes;
Inclusion can further be supported by a skills-first approach, where actual skills are recognised instead of formal qualifications;
Vocational education and training need to be further valued and promoted.
The European Commission published two initiatives on 18 April which will boost the cybersecurity sector in the EU: a Cyber Solidarity Act and an initiative on a Cybersecurity Skills Academy aimed at promoting digital skills.
What does this mean for your business?
The 2023 European Year of Skills will put the spotlight on skills to help workers and companies, in particular SMEs, to address skills shortages in the EU. It will promote a mindset of reskilling and upskilling, helping people to get the right skills for quality jobs;
The EU further plans to develop collaboration between businesses and EU Centres of Vocational Excellence, to help businesses develop their skills.
From theory to practice… An example:  are you in search of exceptional talents? If your company requires the expertise of skilled technicians in production automation or specialists well-versed in cooling and heating technologies, you are likely no stranger to the challenges of sourcing and recruiting the right employees to fuel your business growth. These occupations, although instrumental for today's challenges, are in high demand but short supply on the labour market. Enabling access to one-stop-shops and boosting training and education on a European scale can alleviate these pressures, being a step closer to securing the best fit for your team.

9. Circularity
by fostering the transition towards a more circular economy in the EU.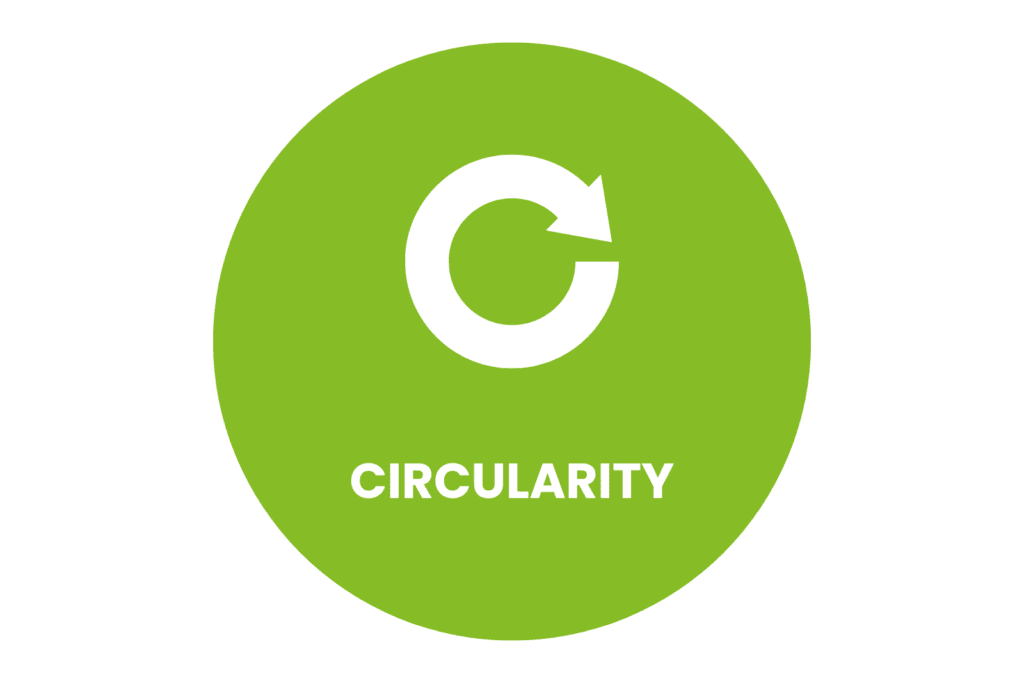 Why circularity?
The EU's competitiveness strategy defines circular economy as key to decreasing resource dependence and waste, while at the same time boosting resource productivity, employment and growth.
What needs to change?
The EU needs to lay strong foundations for a secondary material market, especially for scarce resources;
The Commission aims to adopt eco-design rules for sustainable products to boost the recycling of materials. It wishes to accompany this with a digital product passport. Furthermore, the Circular Economy Action Plan lists materials and resource-intensive sectors, which will be prioritised in setting future-proof eco-design and repair rules.
On 16 March, the European Commission published the Critical Raw Materials Act (CRMA), which aims to ensure the EU has access to raw materials needed to meet its target of moving to net-zero greenhouse gas emissions by 2050.
What does this mean for your business?
Circular economies foster potential for businesses to create new services and business models based on product-as-service, peer-to-peer sharing, on-demand manufacturing, and digital solutions.
Financial support: The EU will keep providing financial support through various funding programs, including the European Structural and Investment Funds, the Horizon Europe program, and the InvestEU program. These programs provide grants, loans, and guarantees to circular businesses and other stakeholders, supporting innovation, research, and development of circular economy solutions.
Regulatory incentives: The EU will keep introducing regulatory incentives such as the Eco-Design Directive, which requires manufacturers to design more eco-friendly products, and the EU Ecolabel, which certifies products that meet specific environmental standards. These regulations will encourage circular practices by promoting eco-design, product reuse, and recycling.
Market incentives: The EU will be promoting circular practices through public procurement policies that favour circular products and services. This can create new markets for circular businesses and provide a competitive advantage to businesses that adopt circular practices.
From theory to practice… An example: Are you producing electronic consumer products? Keep an eye on upcoming proposals! With the Eco-Design Directive and EU Ecolabel, you might face additional challenges in light of the higher demand for sustainability requirements they will generate. In case your business is a new player in electronic consumer products market, often a difficult one to access, your more innovative products may receive a boost relative to more established businesses.

A critical turning point
Today, the EU is at a key industrial turning point, where it faces both the challenges of crisis and insecurity and the opportunities that stem from the green and digital transitions. In this rich and complex context, the EU needs to protect businesses' long-term perspectives and their need for predictable and competitive investment conditions. To support businesses, it needs to ensure they can grow inside and outside of the EU, within a resilient and competitive single market. It is safe to say that the EU's long-term competitiveness strategy will be a complex effort, which will be translated in various objectives, impacting many sectors. While this might be overwhelming for businesses, Publyon offers its year-long expertise to provide support businesses in translating the competitiveness strategy, identifying its potential impact and navigate the different procedures related to its application.
Reach out to us
Next steps
Publyon team is currently in the process of organising an exclusive event on competitiveness in the transport sector. The event will gather policymakers, and civil organisations representatives to boost discussions on transport competitiveness for all modalities. Subscribe here to receive our event invitations and stay up to date with the latest news on the EU's competitiveness strategy.